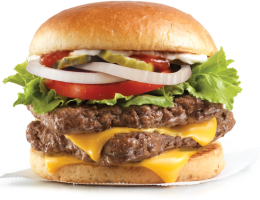 Welcome to Wendy's Aruba
The founder of Wendy's, Dave Thomas, loved two things above all else… food and people. He believed in a place where you get great food, made from fresh ingredients, and served by nice people. That is why in 1969, when Dave Thomas opened our first restaurant, a new gold standard in quality food was established. His words: "We don't cut corners on quality" affected everything from our hamburgers to our customer service. When other restaurants were using frozen beef and mass-producing food, Dave developed an innovative method to prepare fresh, made-to-order hamburgers, allowing us to quickly serve high quality and variety to millions of customers daily. "Quality is our recipe" is a phrase Dave coined that we use to honor his legacy by continuing to live through his values and fresh philosophy of using select, premium ingredients and serving food that's made fresh with every order. With over 50 years of existence, that's the way it's always been and that's the way it will stay.
Today, Wendy's can be found in various countries and will be expanding even more.
After 32 years of existence in Aruba, there are 5 different Wendy's locations, namely Palm Beach, Cura Cabay, L.G. Smith Boulevard, Tanki Leendert and Santa Cruz.
No matter where you find us, quality will always be our recipe.